Las Casitas, beachfront home MANCORA PERU

Mancora Las Casitas in Vichayito offers two exclusive deluxe beachfront homes for rent in Mancora. This a great option instead of the Hotels in Mancora These homes are on the private beach of Vichayito, located in the Pacific Ocean on the north coast of Peru, where the weather is similar to Hawaii. Vacation rental beachfront home in Mancora, Vichayito, Peru.
Vichayito is in the kilometer 1155 of the north Highway (called Panamericana Norte). At this point of the highway there's a deviation towards the west (there's a sign that reads Vichayito). Following this road you will arrive at this beautiful, white sandy beach, which will lead you to "Las Casitas".
Another way of arriving is by Mancora, a tourist spot in the northern coast, following the road towards "Las Pocitas". Vichayito it's only seven kilometers away from Mancora.Very close to the major Hotels in Las Pocitas.
Both homes are identical; two floors each, with 2700 Sqft of living space and 150 linear feet of beach front. All floors, including the ones in the bathroom are marble. The high ceilings are specially designed to keep the houses cool at all times. In the second floor, the ceilings are totally made of Pumaquiro wood, from the Peruvian jungle.
Five bedrooms in each house.
The master bedroom has a king size bed, walk-in closet, bathroom with double shower and an ocean view. It has a roofed deck with a non-roofed area, to enjoy the magnificent sunsets in front of the houses. At night you can enjoy the clear skies full of stars.
The second bedroom also has a king size bed, an ocean view, and bathroom with a view. It shares the same deck with the master bedroom.
The third bedroom has two bunk beds with four twin beds, a complete bathroom and windows with a view.
The fourth bedroom has one Queen size bed and one bunk bed, with a Queen bed at the bottom and double bed on top. Complete bedroom and windows with a view.
The Fifth bedroom is downstairs. It has a bunk bed with a full size bed on the bottom and a twin size on top. Complete bathroom and windows with a view.
All of the bathrooms have hot water.
Altogether each house has two king beds, two queen beds, two double size beds and five twin beds.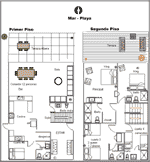 Click floor plan for larger view
Linens and towels are provided (except for beach or swimming pool, please bring your own). The kitchen has cedar cabinets and granite counters. It is fully equipped. The living room and dinning room have an ocean view. There are sliding doors and sliding windows to provide privacy when desired. There's a guest bath next to the living room.
Outside, there's a deck with furniture and a swimming pool, surrounded by a garden. The pool is 45 ft X 25ft. Also, there is plenty of secured parking.
Rent includes a caretaker and a gardener. A cook/maid and maid are available upon request.
Amenities: Horseback riding (for rent), surfing, windsurfing, sports fishing, thermal mud bath tours. There are several other amenities for you to discover in this paradise. Visit Sipan Ruins.
Las Casitas en Vichayito
990007725
whatsapp 51-990007725
511-2214259 511 422-7741

0

http://dmoz.org/Regional/South_America/Peru/Departments/Piura/